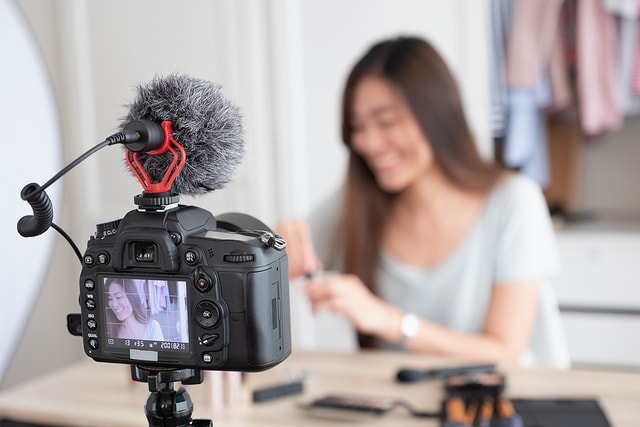 Social media marketing has been growing rapidly as many brands take its benefits to gain more exposure. Along with it, the competition between the brands to get more potential customers becomes more serious.
There are many potential strategies that the brands use to stay visible in the market, one of them is the influencer marketing strategy.
This strategy has a higher possibility to reach more audiences compared to the other marketing channels, making it one of the most effective marketing strategies in this millennial era.
What is Influencer Marketing?
Influencer marketing is a strategy with social-media-content-based launched by influencers in various social media platforms. The brands collaborate with influencers to endorse their products or services.
Influencers consist of celebrities, vloggers, bloggers, or any social media users who actively update their content and gain thousands of followers.
Partnering up with influencers is a great way to promote a brand's product or service. Not only because it has a great impact to persuade the audience, but it is also mutually beneficial for both the brand and the influencer.
The brands can get more exposure to many audiences, and the influencers can keep engaging with their followers by providing the content.
How to make a successful Influencer Marketing Strategy
Set The Goals

First thing first, set what goals your brand wants to reach. The goals will determine how successful your brand's influencer marketing strategy can be.

The goals have to cover the brand's awareness, target market, audience's engagement, and conversion rate. Make sure it is suitable to the brand's KPI.

Building or strengthening the brand's awareness, reaching a more segmented or new market, deciding what kind of engagement your brand wants to gain, and how high conversion rate your company wants to reach, those are very important to consider what marketing content to be published.

Determine The Budget

Collaborating with certain types of influencers will cost differently. There are 3 types of influencers: mega, macro, and micro.

Mega influencers have billions of followers. Usually, they are celebrities who have many fan bases. Working with this type of influencer needs a high budget. Your brand will get high visibility as well, but they have limited engagement due to the high number of their followers makes it harder to maintain communication with them.

Macro influencers have tens or hundreds of thousands of followers. It will cost lower than working with the mega influencers, but your brand will get a higher audience's engagement.

The last but not the least - micro-influencers. They have less than 10,000 or even hundreds of followers. Collaborating with them is suitable for a brand that has a limited budget. Although these influencers have a low number of followers, they are able to manage the engagement with their audience better than the other types of influencers.

Select Social Media Channel

Selecting social media channels is related to the demographics of social media users and also what kind of content your brand wants to publish.

If your brand has certain types of audience as the target market, you can conduct proper research or get the data of demographic statistics from certain sources to find out which social media that is suitable for your brand.

Social media content your brand wants to create is also a part of the consideration to decide the platforms or channels to use, and what features to be optimally harnessed. Suitable social media channels can bring your content more visibility.

Choose The Influencer

The way influencers endorse products or services can be different. They have their own characters in delivering what they want to share with the audience. It can be seen by what kind of content they post, and how they deliver the message through the caption or the chosen words they speak.

That is why a brand should choose the influencers to be partnered up wisely because they can represent a brand's profile or character.

For example, the clothing brands usually collaborate with influencers who post many contents showing them wearing fashionable clothes, or the beauty brands that work with the vloggers who publish make-up tutorials, and many more.

Choosing the right influencers will lead your brand to reach more segmented audiences. It has a higher chance to get more potential customers.

Creating Useful Content

To attract more audiences, you need great content. Useful content is more engaging than an advertisement.

Advertisement alone is quite interesting, but if the audiences do not think they need it, they won't give attention. Unlike advertisements, useful content has more impact to attract audiences.

People tend to pay more attention to what is beneficial for them. Useful content like tips and tricks to do something has the power to create needs for those who watch it. Even though they don't need it, they will consider it as a useful product on a daily basis.

Another effective content is a direct product review by the influencers. For example, your brand's product is a skincare cream. Showing the influencer applying the cream on the skin, and telling the audience how the cream makes the skin brighter and softer will successfully persuade potential customers to buy the product.

Run The Campaign

After getting all that you need to run an influencer marketing campaign, it is time to rock. The first few days are the hardest part to attract audiences, because it is still a new thing for them.

However, if you manage to maintain engaging content regularly, it is not a problem. The audience will notice your brand.

The next step after promoting your brand's products or services is creating events that are related to giveaways or rewards. You can mention what requirements audiences need to fulfill to get the reward.

This method will engage more audiences to watch your brand's content. Most people can't resist free products, whether they need it or not.

Such promotional events are able to bring your brand multiple benefits, getting your brand more exposure, gaining user-generated content related to the products and services, reaching new potential customers, and many more.
Those are 6 effective ways to make a successful influencer marketing strategy for your brand. There is nothing to lose in applying this marketing strategy.
Maybe you can't reach the number you set as a conversion rate in the period of time you have decided, but over time, you will get more visibility due to the engagements you build from the audience's trusted Influencers.
Integrate your influencer marketing into a social media wall on your website with Social Blend.
Register
today and create a free embeddable feed.
18 Aug 2020